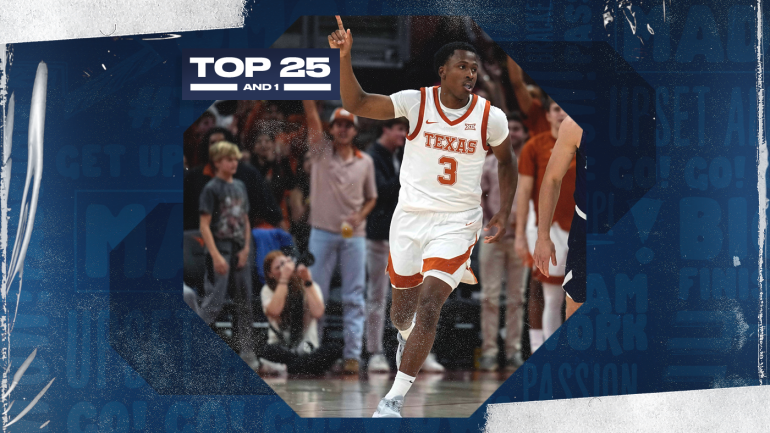 Wednesday was a good day for Texas.
First, on live television, five-star prospect Tre Johnson announced his verbal commitment to the Longhorns. Then, just to ensure the nice news wasn't overshadowed, UT beat Rice 80-64 to improve to 3-0 on the season.
Rice entered the game shooting 40.0% from 3-point range — but the Owls made just four of the 22 shots they attempted from beyond the arc against Texas. That led to Rice being outscored from the 3-point line by an 18-point margin.
"We knew we were gonna have to play some good shooter-defense," said Texas coach Rodney Terry. "Our guys did a good job for 40 minutes."
A bigger development than the non-league win over a team ranked 184th at KenPom.com was obviously Johnson's commitment to the soon-to-be SEC program. The 6-foot-6 guard is ranked fifth in the Class of 2024, according to 247Sports. 
He picked Texas over Baylor to end a recruiting battle between two in-state powers — one (Baylor) that doubled as Johnson's father's alma mater, the other (Texas) coached by a man who was an assistant at Baylor when Johnson's father played for the Bears in the 1990s.
Johnson said he consulted former Texas star Kevin Durant before making his decision.
"I talked to him, bounced some ideas off his head," Johnson said. "He said it was a good place to come and hoop and just play. Great atmosphere. [I'm] just looking forward to getting down there on campus."
Texas is now No. 4 in 247Sports' Class of 2024 recruiting rankings and No. 17 in Thursday morning's updated CBS Sports Top 25 And 1 daily college basketball rankings. The Longhorns' next game is Sunday against Louisville inside New York's Madison Square Garden.
Itching for more college hoops analysis? Listen below and subscribe to the Eye on College Basketball podcast where we take you beyond the hardwood with insider information and instant reactions.
Top 25 And 1 rankings