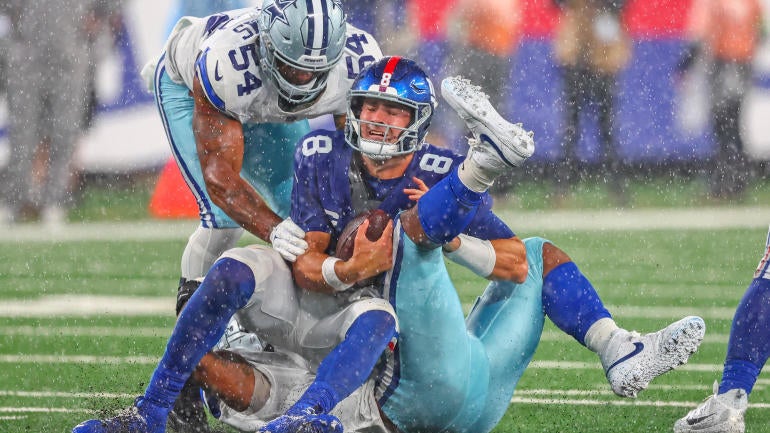 Daniel Jones had the second-worst passer rating of any starting quarterback in Week 1. But Micah Parsons, the Cowboys star who wreaked havoc against the Giants signal-caller on Sunday night, doesn't think Jones should be taking too much heat in New York.
"It's called protecting your guy — something I thought the Giants should have done," Parsons said on Bleacher Report's "The Edge" podcast, per Giants Wire. "I don't think Daniel Jones should have been in that game in the fourth quarter. I thought they should have protected him and pulled him out. … (Their) season would be over without Daniel Jones."
Jones completed just 15 of 28 passes for 143 yards and two interceptions in New York's 40-0 loss to Dallas, but a porous offensive line contributed to the erratic outing, with Parsons recording one of seven Cowboys sacks on the night.
"I do not agree with Daniel Jones staying out there until that last drive," Parsons said. "I thought that was wrong. I thought it was deceiving. That's your franchise quarterback and he's out there with a backup offensive line, still getting sacked and hit. I just didn't understand. … Daniel Jones is not a bad quarterback. … You have to remember, Daniel Jones just went against a top-three defense."
Jones' situation may not be vastly improved in the coming weeks, either. While the Cowboys' pass rush won't revisit New York until Nov. 12, the Giants' star left tackle, Andrew Thomas, could miss multiple games after suffering a hamstring injury in Week 1.