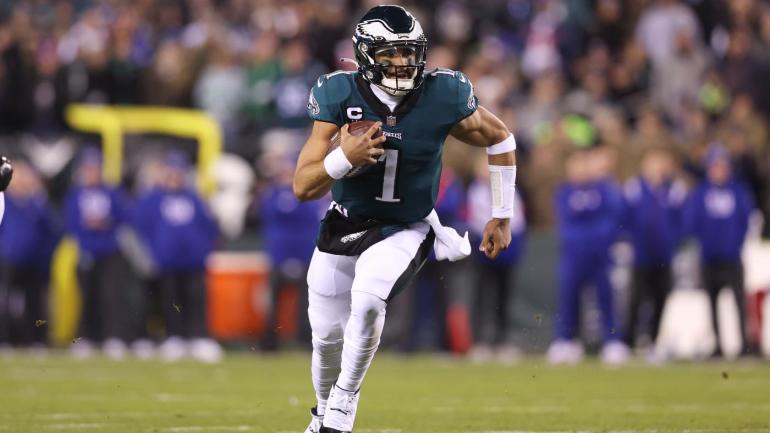 All he does is win. Jalen Hurts improved to 18-1 in his last 19 regular-season starts as the Eagles hung on to beat the Patriots, 25-20, on Sunday. That stretch dates back to Week 15 of the 2021 season. 
If Philadelphia wins tonight when they host the Vikings then Hurts will be the sixth quarterback in the Super Bowl era (since 1966) with a 19-1 or better record in a span of 20 regular-season starts. 
The other five to accomplish this? Patrick Mahomes, Peyton Manning, Tom Brady, Joe Montana and Jim McMahon. All five QBs won a Super Bowl in their careers. In fact, they combined for 16 as starters. 
Jalen Hurts last 19 regular season games
W-L

18-1

1st

Comp pct

67%

8th

Pass yds

4,580

12th

Pass TD

26

15th

Rush yds

886

3rd

Rush TD

15

1st

EPA per play

0.11

5th
The caveat here, this only includes the regular season. But you can hardly fault Hurts for his performance in the 38-35 loss to the Chiefs in Super Bowl LVII. 27 of 38 passing for 304 yards and a touchdown, along with 15 rushes for 70 yards and three touchdowns. He was the first player in NFL history with 300 passing yards, 70 rushing yards and 3 touchdown runs in a game in NFL history, regular season or playoffs. 
Bottom line. Whether you consider QB wins a flawed stat or not, this is ideal company to be in. Plus, this provides plenty of reason for optimism for Eagles fans who are hoping Hurts can deliver a Super Bowl.