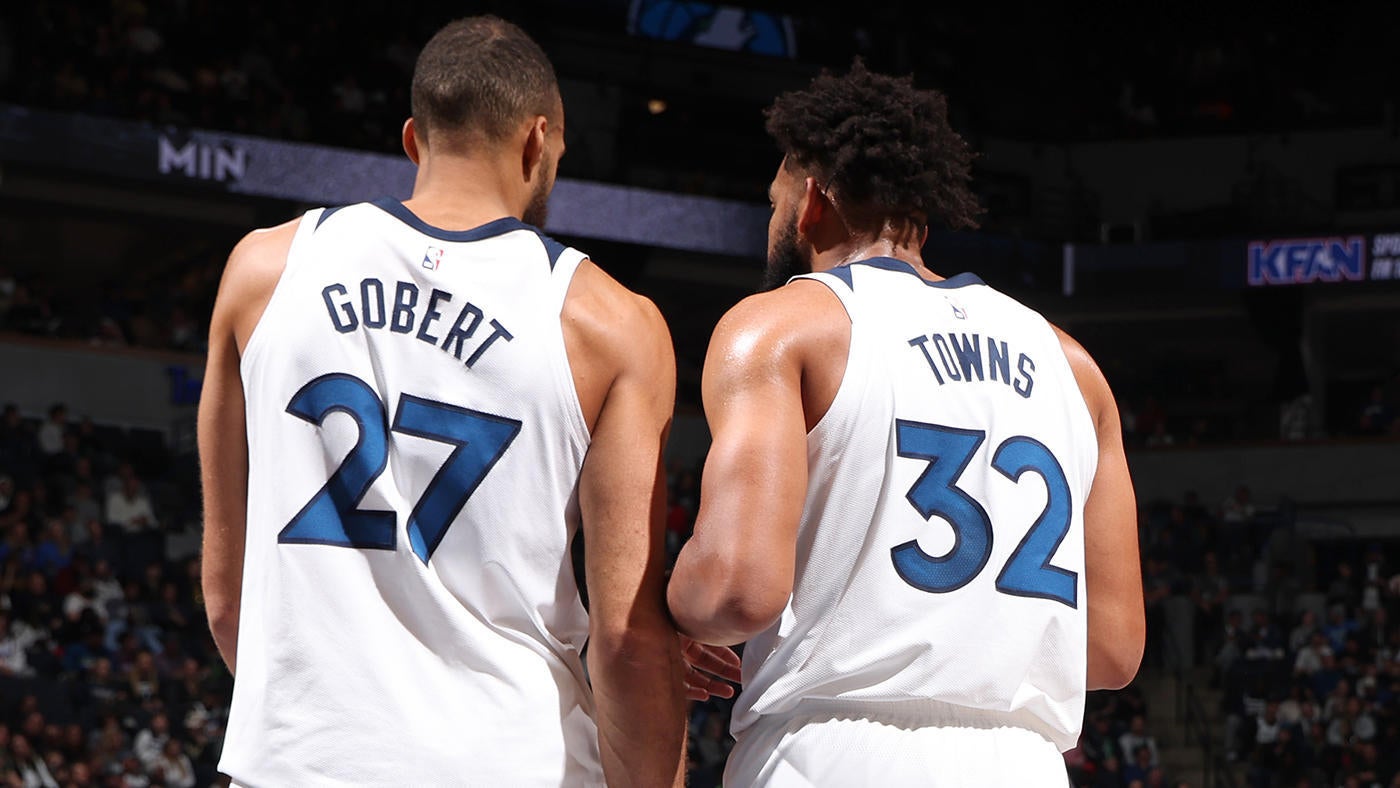 SAN FRANCISCO — Don't overthink it.
So often we want to complicate basketball. Which sets are you running? What are your rotations? How clever are your sideline out-of-bounds plays?
Widely regarded as one of the most innovative minds in the NBA today, Minnesota Timberwolves head coach Chris Finch — working with an unconventional roster teeming with size and length — is careful not to make things more complicated than they need to be.
"No matter what you do in the NBA, how you decide to guard pick and roll, how you decide to set out your shell, whatever your philosophy might be, NBA defense often comes down to the level of shot contestedness," Finch said. "At some point the team's going to be good enough to get up some sort of shot against you. You're not turning them over every single time. Can you get out and can you bother that shot? We have great length, and I think that helps us."
Great length is an understatement. The Wolves' starting lineup features two seven-footers in Karl-Anthony Towns and Rudy Gobert, alongside two wings with tremendous length for their size — Anthony Edwards and Jaden McDaniels. Off the bench come Naz Reid, Nickeil Alexander-Walker and Kyle Anderson.
Length on length on length.
Those combined wingspans are a vital part of why the Timberwolves have raced out to an 8-3 record, powered by the best defense in the NBA. Minnesota has allowed fewer than 106 points per 100 possessions while holding opponents to just 33% from behind the 3-point line, which ranks fourth in the league. Why? It goes back to what Finch said — the ability to contest.
Watch here as Towns begins to drop into the lane as a pick-and-roll defender, but sees Warriors sharpshooter Klay Thompson rising up for a 3. Towns closes the gap quickly, raising his arms straight in the air to bother the shot without fouling, which leads to a miss.
The double-big lineup of Towns and Gobert received a lot of attention last season, mostly negative, after the results were mediocre at best. But, even last season as they struggled, the defense with those two on the court was always good. Mobile for his size, Towns has the ability to stick with smaller players — at least enough to funnel them into the three-time Defensive Player of the Year waiting for them in the paint.
This season, Finch has employed a tactic seen widely around the league, placing Gobert — one of the best rim protectors the game has ever seen — on the least threatening perimeter player, allowing him to roam and hunt blocked shots. Meanwhile, Towns guards the opposing center. Watch here as Warriors big man Kevon Looney thinks he's gotten around Towns — a 7-footer — only to find another 7-footer waiting to swat away his layup attempt.
So, with all that length, defense was never the problem. Offense, however, was another story.
Towns and Gobert failed to mesh offensively in over 500 minutes last season, putting up a feeble 106 points per 100 possessions. This season, however, the duo has thrived to the tune of 116 points per 100 possessions, while keeping the defense stout enough to come away with a plus-five net rating in 240 minutes.
The key, as pretty much every player on the roster will tell you, comes down to one word: Spacing.
"Really, it's about the spacing with the two bigs," Minnesota point guard Mike Conley said. "I try my best to make sure I got them in the right spot, so that KAT has room to play, and that Rudy has room to roll. … I'm just trying to keep the flow going, and those guys seem to be doing well and happy, so I'm doing a pretty good job, I think."
Finch credited Conley for keeping things organized, and the coaching staff has also added structure by calling more actions this season that ensure that the players are in optimal spots on the floor.
Here's the dangerous potential of the Wolves' offense in one sequence:
Towns and Gobert both come up to set screens for Conley, allowing him to use his veteran savvy to choose his path. After Conley uses his screen, Gobert rolls down the lane as Towns pops to the 3-point line. Conley passes to an open Towns, forcing Raptors forward Scottie Barnes to close out hard on an excellent 3-point shooter. Towns immediately drives the open lane, forcing center Jakob Poeltl to step up, leaving Gobert all alone underneath the basket for an easy lob. If wing defender OG Anunoby cheats on the lob, you've got 37% 3-point shooter Anthony Edwards waiting in the corner. Pick your poison.
Nearly half of Towns' assists over the last seven games have gone to Gobert.
"Around the rim, Rudy is one of the most unstoppable forces in NBA," Towns said. "Just being able to communicate with him and be able to tell him what I see. He's done a great job of being in those spots where I could put him in a position to succeed at a high level. You got someone like that, with his intangibles, his size, his God-given traits. When he's in that charge circle, he's in that paint, I don't think many people in this world could stop him."
What makes the Wolves' attack more dynamic this season is Finch's willingness to playing suber-sub Reid alongside either Towns or Gobert for most of his minutes — a tactic he rarely employed last year. The result is two Timberwolves seven-footers on the court for essentially the entire game. It presents a matchup nightmare for opposing defenses, and all three double-big combinations have been extremely productive so far.
Towns-Gobert

115.9

111.3

+4.6

Towns-Reid

111.4

98.4

+13

Gobert-Reid

99.0

88.6

+10.4
Reid and Towns have similar offensive skill sets, both able to stretch the floor and attack the basket off the dribble, while Gobert is more of a traditional rim-roller. It's hard to find space sometimes and, as you can tell from the ratings, the offense has been clunkiest with Reid and Gobert next to each other. Here's an example of poor spacing, leading to a Reid turnover.
But the offense doesn't have to be perfect, because the defense with any combination of the two bigs on the floor has been utterly dominant. The Towns-Reid pairing has been especially devastating — somewhat surprising given the similarity in their offensive games.
"Whether it's rolling when KAT's in the game or it's popping when Rudy's in the game, it's kind of just knowing the different roles that I have when each guy comes in the game and making it work," Reid told CBS Sports. "For me, it was pretty easy because Rudy plays the complete opposite as me. And then for KAT, it was really just figuring him out. We kind of play the same, but it kind of helps in the same fact though, because I can roll dominantly. So, I mean, either way, it kind of works."
It's quite a turnaround from last season, when Finch said the numbers for the Reid-Towns lineup combinations "were just awful." He points to the defensive commitment from both players as a reason why they've been so effective together this season, along with the offensive fluidity they've developed. It also helps that, on top of being a 44% 3-point shooter, Reid is an absolute monster in the paint. He's in the 73rd percentile this season in post-up scoring efficiency, per Synergy Sports.
"Naz is bringing us that spark of the bench, that punch. He's very good, also, at punishing mismatches, which is huge for us," Gobert said. "A couple of games ago, he was able to kill them down low because they were switching, and there's nothing they could do guarding Naz."
While the combination of Towns and Gobert — along with the outstanding play of Edwards — gets most of the attention, don't forget that the Wolves' duo of talented bigs is actually a trio. It begs the question, which Finch briefly teased over the summer, of whether all three could play together. It happened already this season, albeit for just 71 seconds, in a win over the Jazz in early November. Finch said the three-headed monster lineup wasn't part of the plan, but that "you just never know what the game is gonna give you."
With the perimeter skills of Towns and Reid, throwing both of them alongside Gobert wouldn't be the craziest thing in the world. And judging by the results of the double-big lineups so far, a triple-big lineup might become a formidable secret weapon.
"We're kind of playing the brand of basketball that we want to play, where we're not worried about accolades," Reid told CBS Sports. "We're all just trying to win, and we're all trying to get to where we need to be. And I think that can be as far as possible. With everybody in this locker room, I mean, we can have a special season."