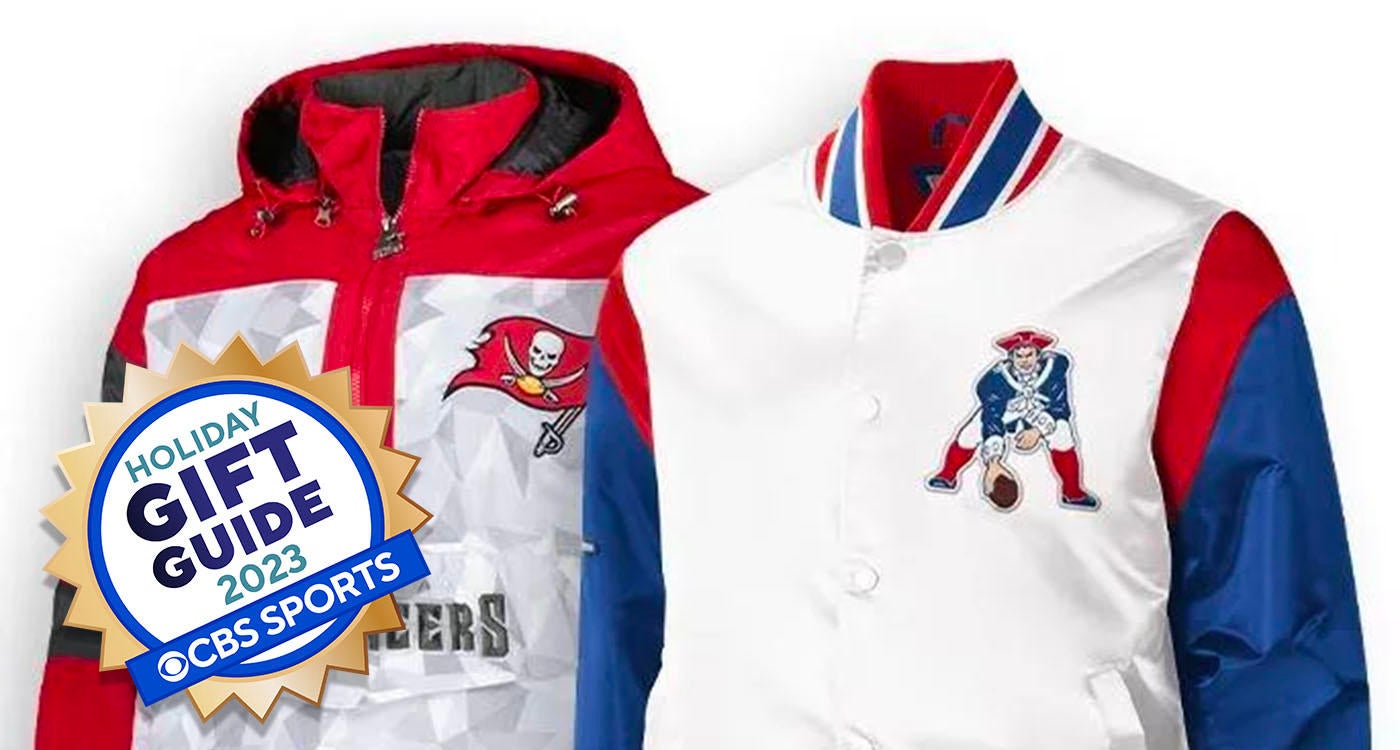 The NFL is the most popular sport in America by a wide margin, and every year NFL fans try to show support for their teams by decking themselves out in the latest NFL gear. Almost everybody knows several football fans and the holidays are the perfect time to come through in the clutch with new NFL products to help take their fandom to the next level. 
In this NFL holiday gift guide, we've compiled a list of 10 potential NFL gift ideas that will be sure to make the football lovers in your life happy. It includes NFL T-shirts, hoodies, jackets, hats and other accessories that could all serve as standalone gifts or stocking stuffers this holiday season.
2023 NFL Christmas gift guide: Where and what to buy
One smart place to do your NFL-themed holiday shopping this year is Amazon. The retailer has set up huge fan shops for each NFL team, so you can find great Christmas gifts no matter what team your recipient roots on. Plus, you can take advantage of two-day Prime shipping. Tap the button below to check out Amazon's fan store, or read on for our top NFL gift picks of 2023.
See Amazon's NFL fan shop

Another good place to buy officially licensed NFL gear is Fanatics. The retailer has one of the widest selections of NFL gear that make perfect gifts this holiday season. Right now Fanatics has a special sale going on: You can save 25% of more sitewide when you use code NFLST at checkout. (Hurry, this offer expires Nov. 16.)
See all new NFL gifts at Fanatics

---
NFL Starter jackets
For sports fans around the world, the Starter jacket has been a wardrobe essential for decades, and the popular jackets from the 80s and 90s are hot as ever. It's an iconic look from an iconic brand that is sure to make any NFL fan the talk of their tailgate parties.
See prices at Fanatics

---
Kansas City Chiefs tight end Travis Kelce cropped t-shirt
Kansas City Chiefs superstar tight end Travis Kelce was already a household name in the NFL after winning two Super Bowls and putting together seven consecutive 1,000-yard seasons. However, Kelce's become an even bigger star of late because of his romance with 12-time Grammy winner and pop icon Taylor Swift. Her legions of adoring fans have made his jersey and apparel best-sellers and the Swifty/NFL fan in your life is sure to love the Kelce cropped long-sleeved, V-neck T-shirt pictured above.
$55 and up at Fanatics

---
Dallas Cowboys socks
Socks have become as essential to making a fashion statement as shoes and the Dallas Cowboys are America's team. So it only make sense that the Cowboys fans in your life should have this two-pack of Dallas Cowboys socks. The pack comes with two designs that will give them options no matter what color of Cowboys gear they're rocking and they make a perfect NFL stocking stuffer.
Starting at $24.99 at Fanatics

---
NFL collectibles and memorabilia
Fanatics is an officially licensed provider of authentic NFL memorabilia for almost every player and team imaginable. You can get autographed NFL mini helmets (like the Justin Jefferson one pictured above), game-used memorabilia and much more, and they're all sure to be cherished items to the die-hard NFL fans in your life.
See prices at Fanatics at Fanatics

---
Green Bay Packers Santa Funko Pop! Fanatics Exclusive Vinyl Figure
Funko Pop! figurines are among the most popular collectibles in the world and at Fanatics you can put NFL fans in the Christmas spirit with these team-themed Santa Claus Funko Pop! The Green Bay Packers are one of the NFL's most popular franchises and the NFL's only publicly-owned team.
$15 and up at Fanatics

---
Philadelphia Eagles gift boxes
The defending NFC champions are off to another red-hot start this year, and this Fanatics gift box gives Philadelphia Eagles fans the chance to rep their team and city in a number of ways. Contents include Wincraft by Fanatics products: team T-shirt, 30″ x 60″ team towel, a two-sided garden flag with a metal garden flag pole, a multi-use decal sheet with three decals, 7″ stainless steel bottle opener, slim can cooler two-pack and regular can cooler two-pack.
$85 and up at Fanatics

---
New York Jets quarterback Aaron Rodgers caricature t-shirt
An offseason trade sent Aaron Rodgers from the Packers to the Jets, but the future Hall-of-Famer suffered a torn Achilles in his first game. However, Rodgers has vowed to return and may even attempt a miraculous comeback later this year. This caricature t-shirt from Homage is an ideal NFL gift for any Jets/Rodgers fan.
$38 and up at Fanatics

---
Washington Commanders Nike 2023 Salute To Service Club Pullover Hoodie

Every year, a portion of the NFL's Salute To Service gear proceeds go to the USO, the Pat Tillman Foundation and the Wounded Warrior Project. You can find Salute to Service jerseys, hats, T-shirts, hoodies and more for every team to show your support for veterans and active duty military personnel.
$100 and up at Fanatics

---
Buffalo Bills Heathered Stripe 3-Piece Full/Queen Bed Set

With the Pegasus Sports collection, you can make your own fandom or the fandom of your friends and family readily apparent in virtually any room of your house. Josh Allen and the Buffalo Bills have had big success in recent years and this three-piece bed set will go perfect in any Bills-themed bedroom.
$100 and up

---
Christian McCaffrey San Francisco 49ers jersey
The NFL jersey is essential gameday wear and you can never go wrong by gifting a football fan with the jersey of their favorite player. San Francisco 49ers running back Christian McCaffrey has put himself in the MVP conversation this year and one of the league's most versatile players would be an excellent gift for any San Francisco fan.
$130 and up at Fanatics

---
How to find NFL gifts for any football fan this holiday season
With Fanatics, there are literally thousands of NFL gift options at your disposal and you can sort those options by team, brand, collection, type of merchandise and more to drill down on that perfect holiday gift. There are t-shirts, hats, hoodies, jerseys and accessories for every team and available at almost every price range.
So whether you're looking to make a serious statement with a rare item like a Patrick Mahomes autographed Chiefs helmet or simply looking for an NFL stocking stuffer, Fanatics has you covered. So be sure to check out all the NFL apparel and gear available now from Fanatics to solve all your holiday shopping needs.
---
Related content on CBS Sports Essentials