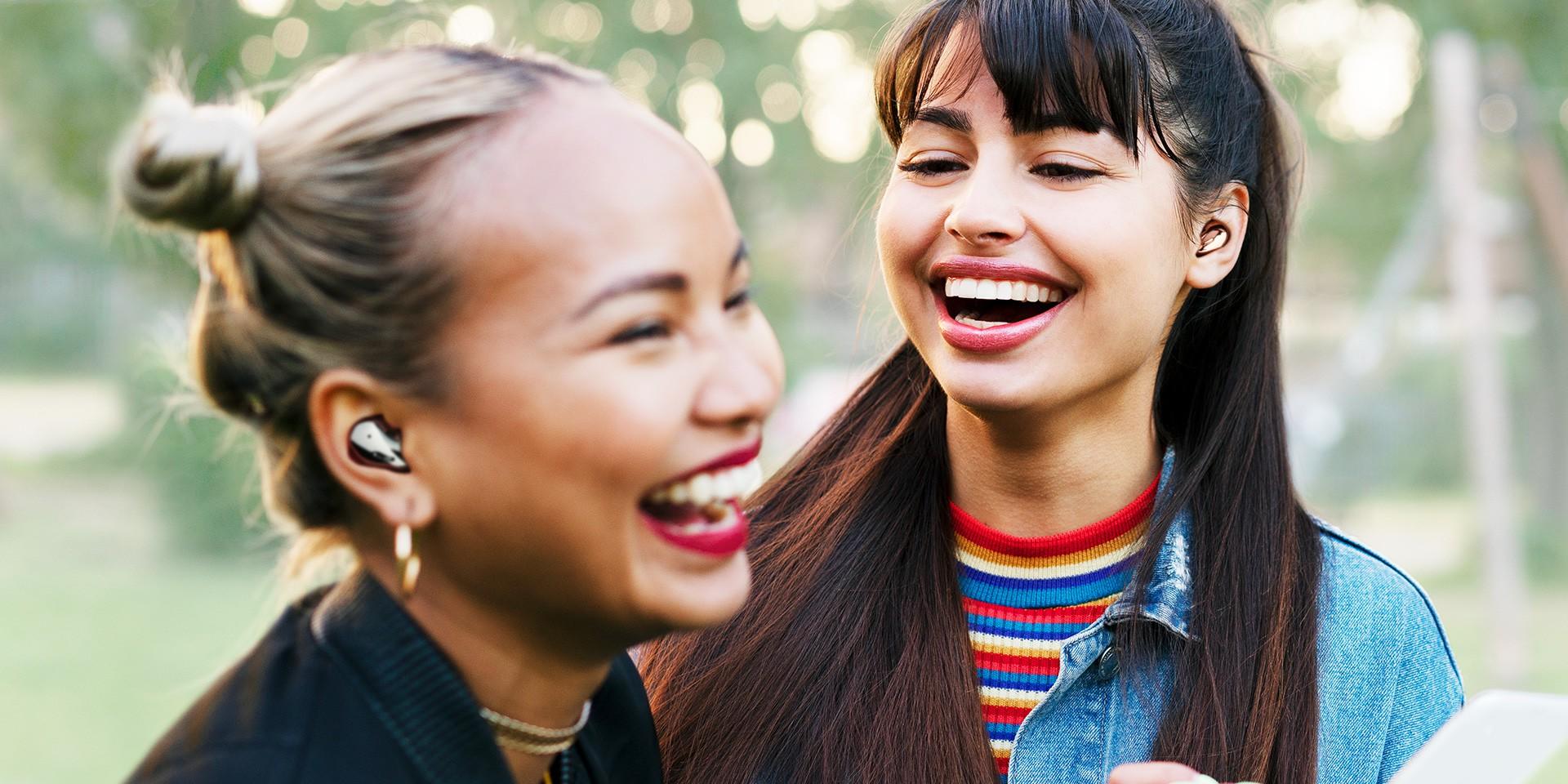 Samsung makes some of the best earbuds for the gym. The Samsung Galaxy Buds 2 Pro are sweat resistant with a waterproof rating of IPX7. But all of Galaxy Buds tend to be durable, comfortable and able to stay in place while you move. They also boast incredible audio quality for an earbud.
Right now, all three of Samsung's latest buds are on deep discount for one week only during the Discover Samsung Fall event. So you can take your pick of any one of Samsung's top-rated earbuds and still have cash left over to take advantage of Samsung's other unbeatable fall deals. (PS: You can also score these deals at Amazon.)
---
Save $50 on the Samsung Galaxy Buds 2 Pro
The Samsung Galaxy Buds 2 Pro are top-of-the-line in terms of earbud audio quality. With dynamic two-way woofers and tweeters in each bud and 24-bit audio depth, you get crystal clear, undistorted sound across high, mid, and low frequencies. No matter what kind of music fuels you, you'll hear it in all its richness and dimension with these buds.
Plus, you get active noise cancelation to tune out distractions so all you hear is that crisp, clear audio and 360 Audio for a surround sound experience that completely immerses you in your music.
Pro tip: if you were planning to pick up the new Samsung Galaxy Watch 6, you can get these buds for even less. The brand has a bundle offer that lets you add the Galaxy Buds 2 Pro to your watch order for just $100. That's more than half off their regular price.
Top features of the Samsung Galaxy Buds 2 Pro:
The separate woofer and tweeter deliver better audio across all frequencies.
The 24-bit audio depth gives you studio-quality clarity.
The battery lasts up to eight hours on a single charge and up to 30 hours with the charging case.
Intelligent active noise cancelation automatically adjusts to let you hear your conversation when it detects your voice.
IPX7 water resistance can withstand even the sweatiest workouts or rainy runs.
$180 at Samsung

$178 at Amazon

---
Get the Samsung Galaxy Buds Live for 46% off
The Galaxy Buds Live rank among Samsung's most popular earbuds yet. The 12mm speakers deliver crystal clear, multi-dimensional audio while tuning out distractions with active noise cancelation. Then, a special bass duct helps enhance those lower frequency sounds for deeper, richer bass notes.
The signature kidney bean shape fits comfortably in your ear and stays in place whether you're logging miles on your favorite running trail or listening to the game while on the go. These sleek earbuds regularly retail for $150 but right now you can get a pair for just $80 during the Discover Samsung Fall Sale event.
Top features of the Samsung Galaxy Buds Live:
The charging case gives you a total of up to 29 hours of listening time.
Each earbud is equipped with three mics, one for picking up your voice and two for detecting and blocking external noise.
The unique "bean" design provides a more secure fit.
12 mm speakers are AKG-tuned to offer dynamic, distortion-free audio quality.
They're IPX2 water resistant.
$66 and up at Amazon

$80 at Samsung

---
Save 27% on the Samsung Galaxy Buds 2
The Samsung Galaxy Buds 2 come with active noise cancelation and Dolby head-tracking technology to create a fully immersive listening experience. Noise cancelation drowns out the outside world while head tracking allows the headphones to deliver dynamic surround sound audio.
They're ergonomically designed, too, so you can wear these comfortably for hours. Right now, you can get a pair for just $110 (reduced from $150).
Top features of the Samsung Galaxy Buds 2:
Use the equalizer in the app to customize your sound experience based on the kind of music you're listening to.
The lightweight design and unique shape make these buds super comfy to wear for hours.
The auto switch function can seamlessly switch between your phone, tablet, or watch so you can hear what you need to hear without fiddling with settings and pairing modes.
They're IPX2 water resistant.
$110 at Samsung

$110 at Amazon

---
Shop more great deals from Samsung:
There are plenty more deals available at the Discover Samsung sale. Samsung is offering enhanced trade-in credits right now, making the following deals all the more tempting.
Great Samsung sports watch: Samsung Galaxy Watch 5 Pro, $430 (reduced from $500)
Comes with Smart Caddie app: Samsung Galaxy Watch 5 Pro golf edition, $420 (reduced from $500)
Upgrade your sound: Samsung Q Series 9.1.2 wireless Dolby ATMOS soundbar, $1,000 (reduced from $1,400)
Save on Samsung's home automation hub: Samsung SmartThings Station with travel adapter, $60 (reduced from $80)
Save $250 instantly on a popular folding phone: Samsung Galaxy Z Flip 4 (256 GB), $810 (reduced from $1,060)
Get $500 instant savings on the Fold 4: Samsung Galaxy Z Fold 4 (512 GB), $1,420 (reduced from $1,800)
---
Related content on CBS Sports: