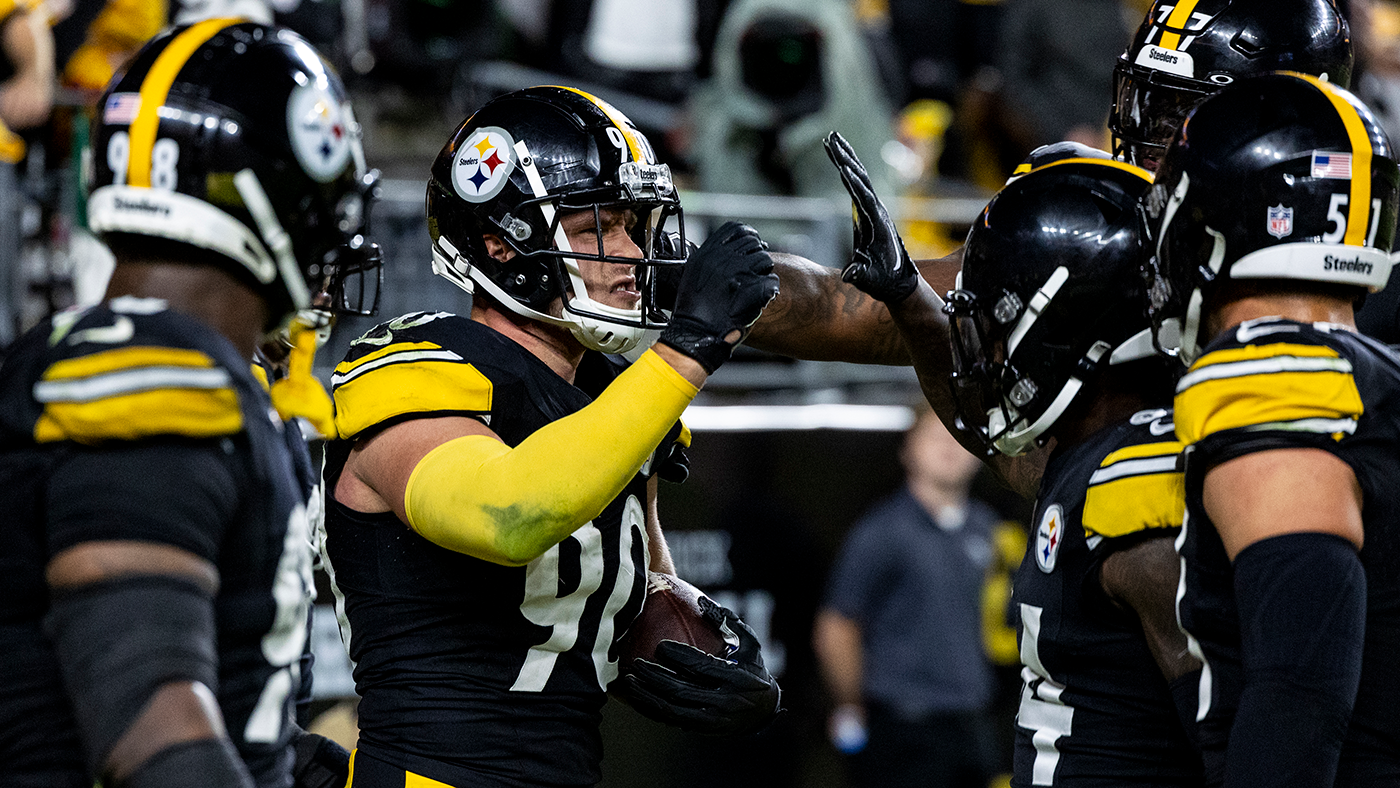 This is an article version of the CBS Sports HQ AM Newsletter, the ultimate guide to every day in sports. You can sign up to get it in your inbox every weekday morning here.
Please check the opt-in box to acknowledge that you would like to subscribe.
Thanks for signing up!

Keep an eye on your inbox.

Sorry!

There was an error processing your subscription.

---
🏈 Good morning to everyone but especially …
THE PITTSBURGH STEELERS AND NEW ORLEANS SAINTS
A pick six to start it. A scoop and score to win it. Mike Tomlin has never had a losing season, and games like the one Pittsburgh played Monday night — where his team just finds a way — are exactly why. The Steelers avoided a disastrous 0-2 start to the season with a wild 26-22 win over the Browns.
Alex Highsmith had a pick six off Deshaun Watson on the first play from scrimmage, and he followed with a strip-sack of Watson in the fourth quarter. T.J. Watt picked up the loose ball and scored the game-winning touchdown.
Watt also

became Pittsburgh's all-time sack leader

 earlier in the game.
It's the first time the Steelers have scored multiple defensive touchdowns in a game since 2010. Highsmith is just the second player in the last five seasons with a pick six, a forced fumble and a sack all in the same game.
In between was a whole lot of ugly: The Steelers were outgained 408-255 and had just nine first downs, their fewest in a game since 2010.
But this is what the Steelers do against the Browns in Pittsburgh: win. They've won 20 straight regular-season home games against the Browns, the second longest streak by any team over any opponent in NFL history. And speaking of Tomlin just winning, his 26 victories over the Browns are most all-time, passing the legendary Chuck Noll.
There are a ton of things to fix on offense, but trying to fix them with a 1-1 record is a whole lot better than trying to fix them at 0-2.
Elsewhere Monday night …
Derek Carr entered the NFL in 2014. Since then, he hasn't had a single good defense, and the Saints haven't started 2-0.
Until now.
Led by another terrific effort by the defense and some timely late offense, New Orleans moved to 2-0 for the first time since 2013 with a 20-17 win over the Panthers.
Carr's stats — 21 of 36, 228 yards and one interception — weren't impressive, but he hit a deep ball (42 yards to Chris Olave, 45 yards to Rashid Shaheed) on both of the Saints' touchdown drives.
Tony Jones Jr., he of zero touchdowns in his first 19 career games, had two TD runs.
The defense flummoxed Bryce Young, who posted an abysmal 4.6 yards per attempt and managed just one late touchdown to Adam Thielen.
That's the only touchdown the Saints have allowed this season. It's their fewest allowed through two games in franchise history.
Here's the stat that stands out: Carr is now 2-0 with the Saints when they score 20 points or fewer. He was 7-62 with the Raiders when they scored 20 points or fewer. He wanted a team with an elite defense, and he absolutely got it.
In an NFC South that doesn't have any top-tier teams, the Saints' top-tier defense stands out.
😊 Honorable mentions
🤕 And not such a good morning for …
NICK CHUBB AND THE CLEVELAND BROWNS
If you want to know how awesome and well-respected Nick Chubb is as a player and person, look at the athletes who tweeted after his gruesome, season-ending knee injury. LeBron James and Lamar Jackson sent prayers. JJ Watt was "gutted." Bijan Robinson called Chubb a "role model." And that's just a few.
Chubb is a great running back, but not just among his contemporaries. He's an all-timer.
He has four seasons of 1,000 yards rushing on at least 5.0 yards per carry. The only players with more are Hall of Famers Barry Sanders and Jim Brown and Hall of Very, Very Good (if it existed) member Jamaal Charles.
Since he entered the league in 2018, Chubb has the most tackles avoided (370) and the highest tackles avoided rate (25.4%) among players with at least 300 rushes.
Jerome Ford impressed with 16 carries for 106 yards in his absence, but Ford is not Chubb. Now the Browns must rely more on their other big names, and Watson simply isn't living up to it.
His three turnovers Monday tied a career high.
In eight games with the Browns, he has 11 total touchdowns and nine turnovers.
Since taking over as Cleveland's starter, he ranks 32nd out of 34 qualified quarterbacks in expected points added per dropback.
It's just not good enough, and it's not particularly close.
😬 Not so honorable mentions
🏈 Michigan State to fire Mel Tucker for cause following sexual harassment allegations
Michigan State will soon fire head football coach Mel Tucker for cause, just over one week after the university suspended him without pay amid its investigation into sexual harassment allegations from rape survivor and activist Brenda Tracy.
A formal hearing is slated to begin Oct. 5 regardless of Tucker's status as Michigan State's coach.
Harlon Barnett has been the Spartans' acting coach, and former coach Mark Dantonio returned to the program as an associate coach. But the Spartans will begin searching for a full-time successor soon, and Dennis Dodd has potential options in his set of Michigan State coaching candidates, including …
Dodd: "Jonathan Smith, Oregon State coach: The Beavers underrated boss must seriously consider a move to stay in what will soon be the Power Four. With Oregon State's impending move to the Mountain West, resources are going to decline considerably. Smith, a former Beavers quarterback, built the program from ashes to 10 wins last year. He's a developmental guy who would have access to much more talent at Michigan State. … Could Smith fight off distractions while back channels are worked so he can make the transition at season's end?"
⚽ UEFA Champions League is back! Matchday 1 picks, previews

*operatic voice* THE CHAAAAAAAAMPIONSSSSSSS!!!!
We're back! The 2023-24 UEFA Champions League opens today with eight matches on the docket and all of them streaming on Paramount+. All times Eastern
AC Milan vs. Newcastle, 12:45 p.m. (

preview

)
Young Boys vs. RB Leipzig, 12:45 p.m.
PSG vs. Borussia Dortmund, 3 p.m. (

preview

)
Shakhtar Donetsk vs. Porto, 3 p.m.
Manchester City vs. Red Star Belgrade, 3 p.m. (

preview

)
Feyenoord vs. Celtic, 3 p.m.
Barcelona vs. Antwerp, 3 p.m. (

preview

)
Lazio vs. Atlético Madrid, 3 p.m.
We have expert picks for all 16 Matchday 1 games (eight today, eight Wednesday), and I'm keen on AC Milan-Newcastle, which features Sandro Tonali facing his former squad, as Francesco Porzio highlights.
Oh yeah, and for you USMNT fans out there, Christian Pulisic hopes to continue his strong start for AC Milan after leaving Chelsea. He's one of James Benge's five players to watch.
Benge: "Even before the international break he had hit the ground running, scoring on his debut away to Bologna before crowning his San Siro bow with a goal against Torino. Even better than the goals might be this statistic: three games, three starts. That alone is one shy of his best run in his final two years at Stamford Bridge. … If he's delivering these sorts of high value chances and banging in the sort of stunning goal he netted on debut then Pulisic may well prove to be an X-factor in a tricky group for the Rossoneri."
We also have staff picks for who wins it all, and four of our five writers are rolling with reigning champion Manchester City. No English club has gone back-to-back as the champion of Europe since Nottingham Forest in 1979-80.
📺 What we're watching Tuesday
⚽ UEFA Champions League, details here
🏀 Mystics at Liberty, 7 p.m. on ESPN
⚾ Phillies at Braves, 7:20 p.m. on TBS
🏀 Dream at Wings, 9 p.m. on ESPN