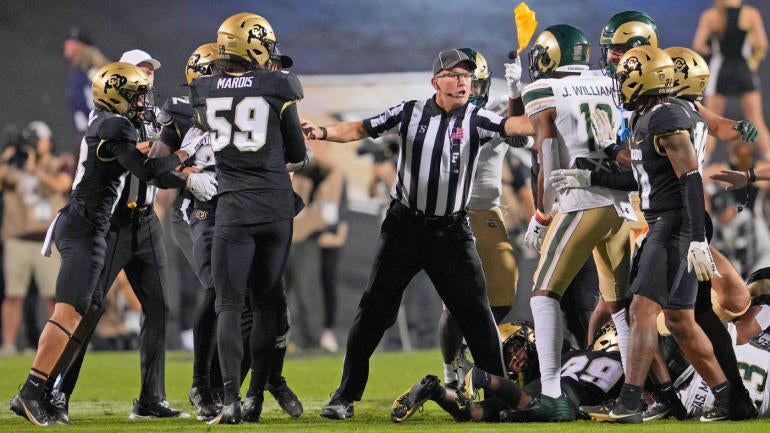 Colorado State continued to fan the flames of its rivalry with Colorado Saturday night. The Rams punctuated two of their early touchdowns by mocking iconic celebrations Buffaloes coach Deion Sanders made famous during his playing career. The first came when Colorado State safety Ron Hardge III high-stepped into the end zone while returning a fumble 45 yards for a touchdown to put the Rams ahead 14-7.
The high step was one of Sanders' signature celebrations during his NFL playing days, trotting out the maneuver in big moments of his own such as interception returns. 
The next Sanders imitation came from wide receiver Louis Brown IV, who channeled the famous "prime time" dance that Sanders popularized while electrifying the NFL as a defensive back and returner from the late 1980s until the early 2000s. Brown's attempt at the dance came after a 15-yard touchdown reception that put CSU ahead 21-14 late in the first half.
The imitations of Sanders are just the latest shots fired between the two teams. Colorado State coach Jay Norvell threw shade at Sanders earlier in the week when he said, "when I talk to grownups, I take my hat and my glasses off." Those remarks prompted Sanders to say that Colorado State had "made it personal." 
Ultimately, Sanders turned Norvell's jab into a marketing opportunity and a means of firing his team up as he distributed sunglasses to his players. Unsurprisingly, the game's first half featured flaring tensions. Colorado State was penalized 11 times for 133 yards, which included several whistles for unsportsmanlike conduct or unnecessary roughness.