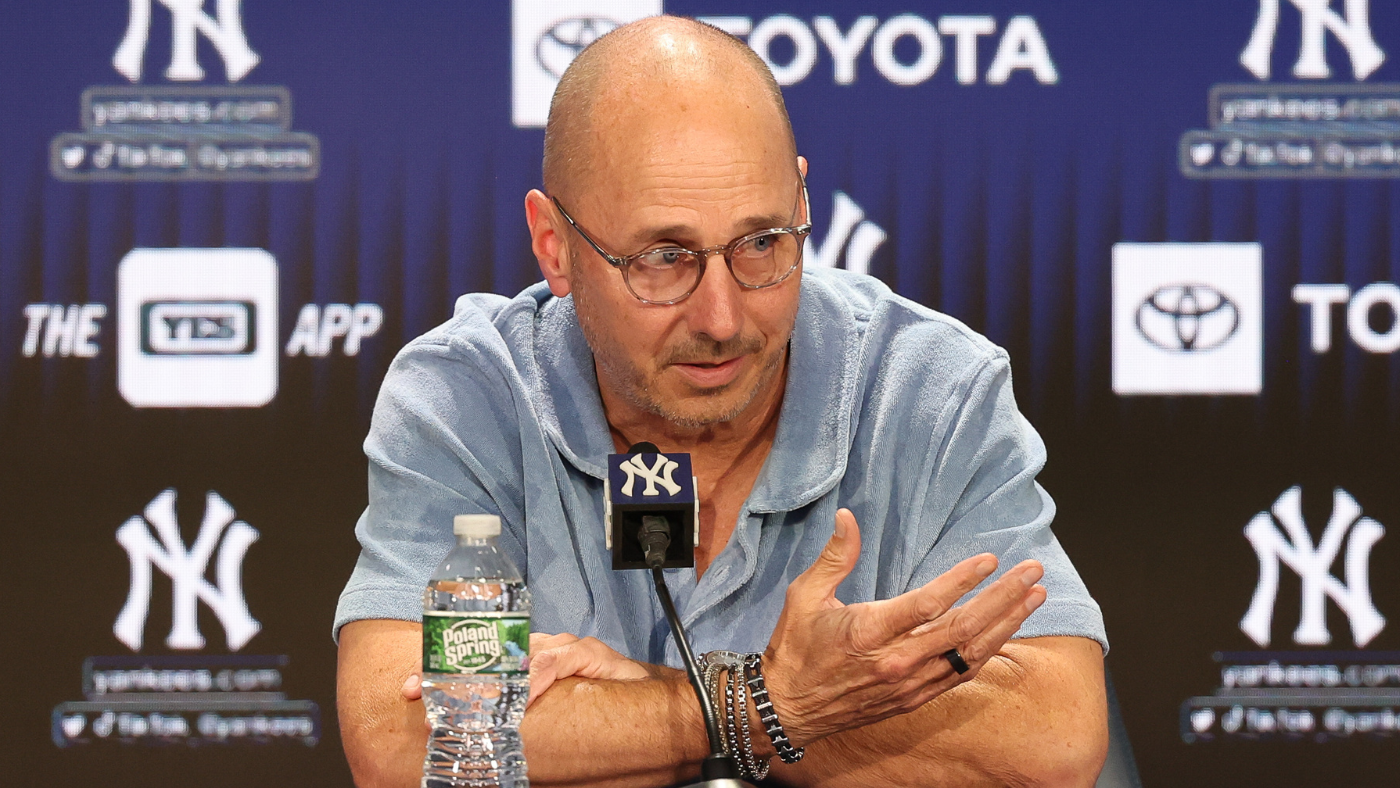 The New York Yankees, and specifically GM Brian Cashman, have made plenty of headlines early this offseason, though not for the right reasons. At the GM Meetings last week, Cashman defended his front office during a profanity-laden rant, during which he declared, "I think we're pretty f–king good." He was referring to his front office, not his 82-80 team.
During that same press conference Cashman essentially called Giancarlo Stanton injury prone — "(Getting hurt) seems to be part of his game," Cashman said — adding it's hard to count on him staying healthy next season. The comments did not make waves until this week, though they prompted a response from Joel Wolfe, Stanton's agent. Here's what Wolfe said in a statement:
"I read the context of the entire interview. I think it's a good reminder for all free agents considering signing in New York both foreign and domestic that to play for that team you've got to be made of Teflon, both mentally and physically because you can never let your guard down even in the offseason."
The "foreign and domestic" line is notable because Wolfe, a represented veteran agent with a star-laden client list, also represents Japanese right-hander Yoshinobu Yamamoto, the top pitching prize this offseason. For what it's worth, SNY reports Yamamoto was not even aware of the Cashman-Wolfe spat, though I would assume he has been briefed now. 
On Thursday, during a charity function raising awareness for youth homelessness, Cashman said he has spoken to Stanton and Wolfe to clear the air about his comments regarding Stanton's injury trouble. He does not expect his comments to be an obstacle during the team's pursuit of Yamamoto. 
Here's what Cashman said Thursday (via the New York Daily News):
"I was surprised how it got twisted and turned and played out or what have you," Cashman said. "I said what I said, so that's why I certainly had the conversations. I value Giancarlo Stanton as a player, without a doubt. He's one of the big drivers of when we do win. He's one of the few players you bring to New York that hasn't backed down, that's handled himself in a professional manner through thick and thin. This is one of the few players that, when the money's on the line, if you look at his postseason numbers, is pretty impressive. So he's a gifted, talented player. He's a feared hitter, obviously, and we'd love to be able to deploy him at all times. But anyway, I made the phone calls after. Again, I was caught off guard when, about a week later, everything became something that was never intended, because my comments weren't intended to poke anything at anybody. I was just answering a question.

"But regardless, I got a lot of respect for Joel and, more importantly, for our player, Giancarlo Stanton."
Cashman gave a simple, "I do not," when asked whether he believes his Stanton comments will hurt the Yankees' chances to sign Yamamoto. The Yankees are expected to seriously purse the 25-year-old right-hander, who threw a no-hitter with Cashman in attendance earlier this year.
Ultimately, this is all a lot of saber-rattling. Wolfe is just doing his job, which in this case means defending one client while building leverage for another. Yankees fans of a certain age will know Cashman's comments about Stanton barely register on the George Steinbrenner scale when it comes to calling out players on the roster.
Either the Yankees will offer Yamamoto the most money and sign him, or they don't and they won't. And, if they do sign him, Wolfe and Cashman will set together on the dias during the press conference. Agents and GMs don't have to like each other, but they do need each other. Wolfe knows better than the freeze the big spending Yankees out on Yamamoto.
As for Stanton, the recently turned 34-year-old was limited to 101 games in 2023 and 391 games from 2019-23 by multiple injuries, often lower body muscle strains. He had the worst season of his career in 2023, slashing .191/.275/.420 with 24 home runs. The Yankees owe Stanton another $98 million through 2027.